Hire Mobile App Developers For Every Platform
Leverage the best of mobile app development with industry experts equipped with the latest tools and technologies for all your project requirements.
Don't miss out on the international standards of mobile app development and hire the best mobile app developers, experienced and skilled to articulate the future-ready feature-rich mobile application.
Developers fluent in Xamarin, Android, Flutter, React Native, and other mobile app development technologies for your team. Create cross-platform failproof applications with unmatched skill sets.

Swift

Kotlin

Ionic
Why Hire App Developers From Infiraise?
Hire App Developers to build a team of seasoned professionals by your side to carve the path to success!
Best
Solutions
Utilize the unique features of Mobile app development and create applications aimed at high performance.

Faster
Development
Hire mobile app developers for a quick & clean development process working in sync with your vision.

Risk
Mitigation
Advanced and up-to-date security processes followed by developers to deliver products with added safety value.

Proactive
Support
A team of skilled professionals by your side during the development process, and even after that!

On-Time
Delivery
Already thinking about launch dates? Hire dedicated app developers with Infiraise and get it done on time.
How Dedicated App Developers Can Help
With the right people by your side, you can create wonders. Here's how we help you achieve excellence.

Cross-Platform Applications
Reach more users with mobile applications for popular operating systems such as Android and iOS.

Interactive User Experience
An important aspect of any mobile application, hire dedicated mobile app developers to create interactive applications.

Enter The World of VR/AR
Step into the future right before anyone else, with the latest developments in the world of VR/AR.

Scale Up Your Mobile Apps
Your mobile applications grow as your business grows! Build enterprise-level apps by hiring mobile app developers.

App Upgrades & Maintenance
It's not over, even when it's over! Infiraise is here to help with your app upgrades and maintenance even after deployment.

Cloud
Architects
Hire dedicated mobile app developers with experience in cloud management to manage your project.
Key Differentiators
Million-dollar ideas don't come every day, turn them into reality with Infiraise!
Multi-channel Communication
Have complete control over your project. Be in touch with our experts with your preferred channel of communication.
Hand-picked
Talent
Dedicated mobile app developers are hand-picked by our experts to meet all the project needs.
Equipped With The Best Tools
Always on top of changing trends in mobile development, developers are equipped with the latest tools & technologies.
Customized Solutions
Every project requires a different approach. Meet all your custom requirements with Infiraise's mobile app developers.
Hiring Models
Your team, your call! Choose from the flexible models based on your needs.
Infiraise Dedicated Team
Hire dedicated mobile app developers who take complete responsibility for your project needs and oversee it right from start to finish.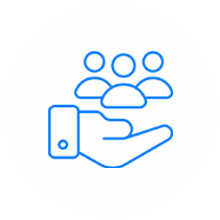 Client
Managed Team
Hire Mobile App Developers who work in association with your team to provide complete ongoing support throughout the development process.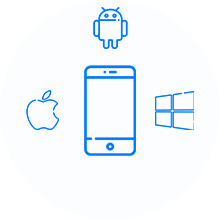 Hybrid
Model
Our developers also provide customized solutions to meet your business needs by integrating the best of both on-site and offshore development.
How it Works
Hire mobile app developers that culminate your needs into solutions while boosting efficiency and security.
Drop an Inquiry
Consult With Our Experts
Select Engagement Model
Sign off and Begin Work
Scale Your Team
Mobile App Developer Engagement Models
We offer flexible engagement models to hire mobile app developers that are best suited for your project.
Full Time Hiring
Part Time Hiring
Hourly Hiring
View Hire
8 Hours
4 Hours
Hour Basis
Hiring Period (Min)
8 Hours
4 Hours
Hour Basis
Methodology
8 Hours
4 Hours
Hour Basis
Communication
8 Hours
4 Hours
Hour Basis
Project Trackers
8 Hours
4 Hours
Hour Basis
Frequently Asked Questions
Here are some of the frequently asked questions often asked by our clients
How Do I Hire Mobile App Developers?
To hire a mobile app developer, you need to screen the mobile app developer based on your project.
Infiraise makes it easy. First, you will need to share your requirements with us, and we will provide you with the best-suited profiles. Interview them and add them to your team.
Why Hire Mobile App Developers?
There are a number of reasons you may want to hire a mobile developer. They can help you migrate your existing applications, create apps from scratch, and even help you build future-proof apps with technologies like VR/AR.
How Much Does it Cost to Hire Mobile App Development?
The cost of mobile app development depends on the nature of the project and the expertise required for it. Therefore, every project will have a unique budget. To know the cost of mobile development for your project, get in touch with us.
Can I Hire Mobile App Developers on an Hourly Basis?
Yes, with our flexible engagement models for hiring mobile app developers, you can hire developers on hourly and project-based tasks.
What About Data Confidentiality and Security?
We completely value your data privacy and confidentiality at Infiraise. We believe in going by the rules of the NDA and no data is shared with third parties.
Inquiry
Let's get in touch